ZETA145 Small Greenhouse Dehumidifier
Product Detail
Product Tags
ZETA145 ceiling mounted dehumidifier for greenhouse can work in the temperature range of 5℃-38℃, and its humidity setting range is 10%RH-90%RH. At the condition of 30℃ and 80%RH, the dehumidification capacity of ZETA145 is 145L/Day which can meet the need of your general plantation. In an area of 120㎡-200㎡, the ZETA145 can work nicely. The ZETA145 dehumidifier is equipped with LCD panel and WiFi is available which is easy for you to control. It can also be controlled through APP. The color can be customized according to your requirements.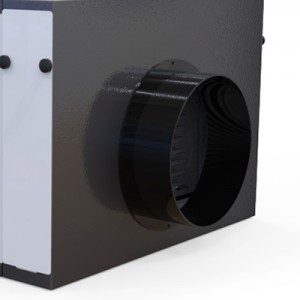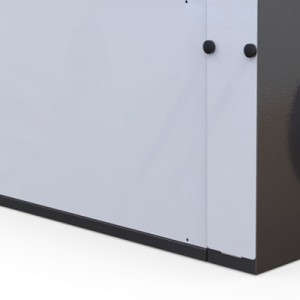 | | |
| --- | --- |
| NO. | ZETA145 |
| Power Supply | 220-240V/50Hz |
| Rated Current (A) | 7 |
| Rated Power (W) | 1500 |
| Dehumidification Capacity (30℃/80%RH) | 145L/day |
| Dehumidification Capacity (26.7℃/60%RH) | 85L/day |
| Dehumidification Capacity (32℃/90%RH) | 160L/day |
| Working Temperature Range | 5℃-38℃ |
| Working Humidity Range | 10%-90%RH |
| Product Dimensions | 872*598*436mm |
| Packaging Dimensions | 940*675*580mm |
| Net Weight | 62.5Kg |
| Refrigerant/ Refrigerant Charge | R410A/1.3kg |
| Filter Material | Nylon |
| Drainage Way | 3/4NPT direct drainage |
| Machine Casing Material | Metal plate |
| Loading Quantity (20'/40'/40'HQ) | 80/164/164 |
ZETA145 ceiling hung dehumidifier for greenhouse has may good features. Our products are operated by professional technicians in every production process, and will pass three main quality inspections before leaving the factory, so we can always maintain high quality.
● Large dehumidification capacity
The capacity of 138L/Day of our ZETA145 greenhouse dehumidifier is relatively higher than machines of a similar type. Compared with products made by other companies, our humidity remover has a higher cost performance
●Direct drainage
The greenhouse dehumidifier adopts a direct drainage mode. There is a 6m-long drain pipe equipped with the machine.
●Easy cleaning
The greenhouse dehumidifier is equipped with a nylon filter, which can be taken down and washed easily. The regular cleaning of the machine, in a sense, can prolong the service life.
●Easy control
ZETA145 ceiling mounted dehumidifier can connect with WiFi. App control is available. Airborne control is realized by a 10m connecting cable wire.
●Long service life
Through a series of tests, the ZETA145 ceiling mounted dehumidifier can work for at least 5 years. If you make regular inspections and maintenance, the machine can work longer without a problem.
ZETA145 dehumidifier is mainly used in greenhouse. Too high humidity will bring a lot of harm to greenhouse plants. First of all, the temperature in the greenhouse is relatively high, and the excess moisture in the air will condense into water drops and attach to the ceiling. The splash of condensate dripping from the ceiling can spread disease. Secondly, the puddle on the floor of the greenhouse promotes the growth of algae and is also a place for insects to breed. Finally, high humidity will interfere with plant transpiration. However, if you want to purchase dehumidifiers to be applied in anywhere with an area of 120㎡-200㎡, ZETA145 dehumidifier will also be a good choice for you. There are other application scenarios of greenhouse dehumidifiers.
Greenhouses; Hospitals; Basements; Underground garages; Office buildings; Factories; Big houses, etc.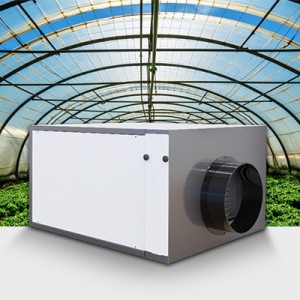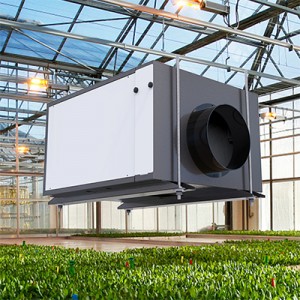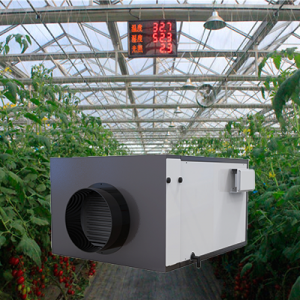 ---
Previous:
Low price for 80L/D Portable Basement Industrial and Commercial Air Dehumidifier Price OEM/ODM with Handle and Wheels for Greenhouse/Large Room/Basements
---